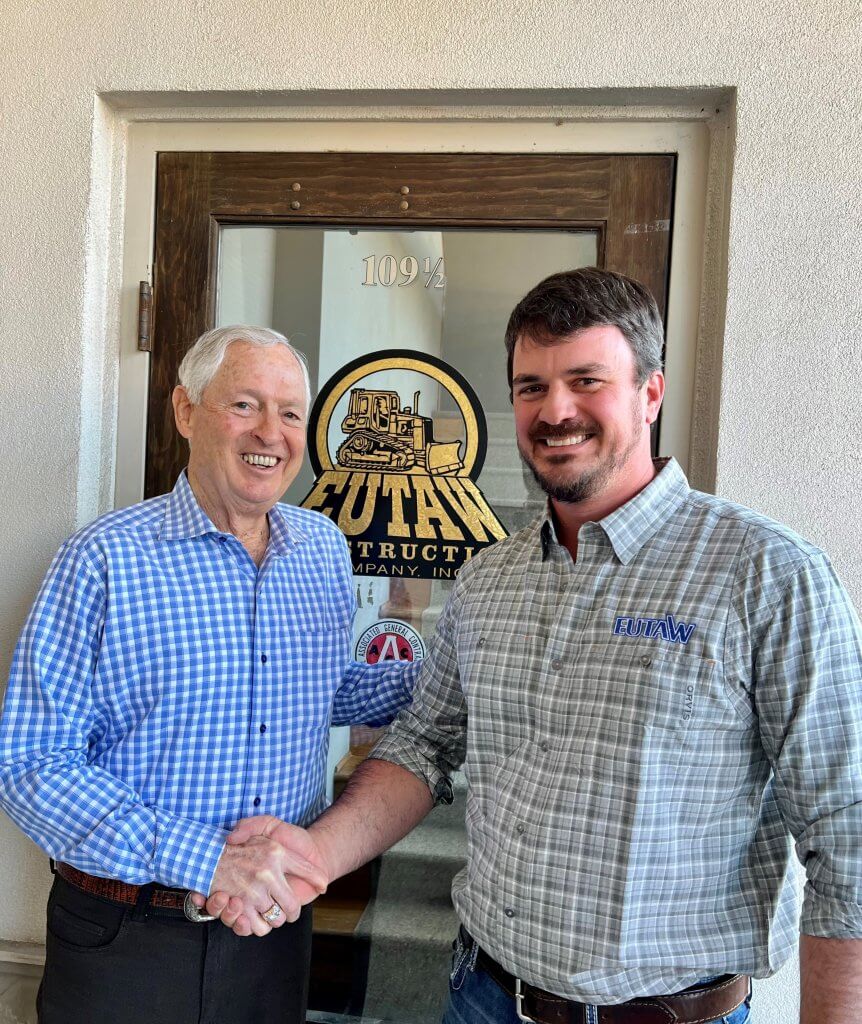 Congratulations to Jonathan Hust!
We are pleased to formally announce that Jonathan Hust has been appointed President by the Board of Directors of Eutaw Construction.
Pictured here, our Founder, Tom Elmore, congratulates Jonathan on his new position. Tom Elmore began Eutaw Construction in 1980 and guided the company from our humble beginnings in Aberdeen, Mississippi, through our years of phenomenal growth into one of the leading heavy civil contractors in the southeastern United States. Under Tom's leadership, Eutaw has constructed hundreds of miles of highways and bridges, utility projects, massive site developments, airfields, demolition projects, and managed large-scale disaster relief. In 2012, Tom developed a succession plan so that Eutaw could continue to grow and succeed for generations. As part of his plan, an Employee Stock Ownership Plan (ESOP) was formed, and the employees of Eutaw Construction purchased 100% of the company. Today, Eutaw is one of only a handful of successful large-scale heavy contractors that are totally employee owned. Tom will continue to remain active in the company as Chairman of the Board and as an advisor to our Executive Management Team. Commenting on the transition, Tom said, "I have the utmost confidence in Jonathan to lead Eutaw into the future and to grow the company and its value for our employee-owners. Eutaw's future is very bright with Jonathan at the wheel."
Jonathan Hust takes over the management of the company after gaining broad and deep experience within every business segment of Eutaw. He first began his career at Eutaw in 2006, managing highway jobs in Louisiana. Since that time, Jonathan has worked in Project Management, Estimating, Equipment, as an executive manager, member of the ESOP Committee and as a member of the Board of Directors. He has risen through the company over time to his most recent past-position as Regional Vice President, where he has managed the largest construction projects that Eutaw has ever been awarded. Jonathan takes over as President with the respect, support, and confidence of the 450 employee-owners of Eutaw Construction. He is uniquely qualified to lead our company as the next generation of Eutaw builds upon our company's firm foundation. Jonathan is a graduate of Mississippi State University and he and his wife, Shanon, have a son and live in Madison, Mississippi.  On what it means to him to be named President of Eutaw, Jonathan said, "I am deeply honored to continue to serve this company and our extraordinary employee-owners. It is an exciting time for Eutaw as we continue to grow and successfully adapt to the rapid changes in our industry. I am grateful to Tom Elmore and the Board for their trust and support as I transition into this role. I am humbled by their confidence in me to lead this talented team here at Eutaw. My commitment to Eutaw is to serve honestly, faithfully, diligently and to always put our employee-owners first in every decision I make for our company."
Congratulations Jonathan Hust on your promotion to President of Eutaw Construction!
Congratulations to Lane Williams!
Eutaw is proud to announce that our Board of Directors has appointed Lane Williams as Executive Vice President. Lane succeeds Bill Cox, who recently retired from the position after 40 years of service to Eutaw.
Lane joined Eutaw in September 2007 as a Project Administrator. He quickly moved up the ranks to a Project Manager and Estimator. In 2014, Lane became a Divisional Manager and refined his business focus to mostly large-scale utility projects and increasing the company's footprint into the airfield construction and lighting market. Since 2017, Lane has served Eutaw in his most recent role as Regional Vice President where he has greatly expanded the company's position in both the utility and airport markets. In that role, Lane led the Eutaw team that was awarded the largest single contract in our company's history – a joint venture project at the Memphis International Airport with a contract value of $200MM.
Lane brings an extensive resume to the position of Executive Vice President. He has managed all sizes of jobs from bid to build; and he has developed an expert understanding of the critical functions needed to successfully complete jobs by leveraging the resources of all business segments of the company including Operations, Equipment, Safety and Finance. Corporately, Lane has served Eutaw as a member of the Executive Management Team, the ESOP Committee, and the Board of Directors. Lane holds a B.S. Degree in Construction Engineering Technology from the University of Southern Mississippi in Hattiesburg. He and his wife, Lindsay, live in South Alabama with their two children.
Ready for his transition into the role of Executive Vice President, Lane said, "I am humbled by the opportunity to serve the employees and families of Eutaw Construction in this capacity. The family atmosphere and culture of our company is uncommon in our industry, and something I value tremendously.  The responsibility of continuing to build this culture and leading our dedicated employees is something I take extremely seriously. My commitment is to work hard every day for the continued success of Eutaw Construction and our employee-owners." Lane joins his long-time colleague and friend, Jonathan Hust who was recently appointed President of Eutaw, to lead the Executive Management Team.
Congratulations Lane Williams on your promotion to Executive Vice President!
In related corporate news, the Board of Directors amended the titles of the other members of the Executive Management Team as follows:  Tony Edwards, Chief Operations Officer; Ben Eakes, Chief Financial Officer; and Tim Balducci, Chief Administrative Officer.